Media Inquiries & Public Speaking
For Interviews, Television, Print, Radio and Personal Appearances: Contact Berry Brady  at berry_brady@yahoo.com or by telephone at (703) 609-6643
Book Stephanie Donaldson-Pressman to Speak Stephanie speaks on a number of topics including education, learning habits, empowerment, grit, parenting, and several topics related to narcissistic families and clients. To learn more, please contact Berry Brady at berry_brady@yahoo.com or by telephone at (703) 609-6643
Selected Media on The Learning Habit: Print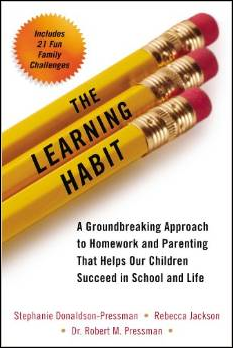 TELEVISION
The Today Show: Too Much Homework?  Interview with Stephanie Donaldson-Pressman
Huffington Post LIVE: Interview with Stephanie Donaldson-Pressman 
WGN-TV: Interview with Stephanie Donaldson Pressman 
The HuffPost LIVE:Caitlyn Becker interview with Rebecca Jackson about The Learning Habit.
KPRC Houston: How Empowerment Parenting Works (Interview with Stephanie Donaldson-Pressman) 
PRINT
The New York Times: When Homework Stresses Parents as Well as Students
The Boston Globe: Take a Step Back To Ease Homework Stress
ABOUT.com: How and why homework causes parents and kids stress, and what to do
The Boston Globe: Is more homework putting stress on families?
The New York Times: Creating a Homework Habit
Time Magazine: Kids Receive 3 Times Recommended Homework Load
CNN: Interview with Kelly Wallace
The Washington Post: Letting families decide homework amount
Front Page on Huffington Post: The Screen Time Rules You Really Should Enforce This Year
The Chicago Tribune: Limiting screen time critical for children's academic, emotional development
The Huffington Post: Why the Creators' Kids Have 'Low-Tech' Parents
WebMD: Expert Q&A: Building Kids' School Success
WebMD: Family, Screen Time Tied to Kids' Success: Study
Psychology Today: Parents Under-Estimate Kids' Media Use
Huffington Post: The Powerful Habit That Helps Kids With Homework
The Boston Globe Magazine:Digital Draw
Psychology Today: How Not to Raise a Generation of Quitters
Psychology Today: Exercise and the Common Core State Standards
New Jersey Family:Media Addiction: How it's Altering Your Child's Mental Health
Psychology Today: Three Steps for Helping Children to Set Academic Goals
The Huffington Post:  How Changes in Media Habits Could Transform Your Child's Mental Health 
Parents Magazine:What can you do to help your child learn?
The Huffington Post:Help Science help you control your kids' tech use
The Huffington Post:The Habits of Highly Successful Families
Selected Media on The Learning Habit: Radio
The Matt Townsend Show: Helping Kids Succeed
******************************************************
Questions for Good Parent, Inc. Please email info@Goodparentinc.com