Stephanie Donaldson-Pressman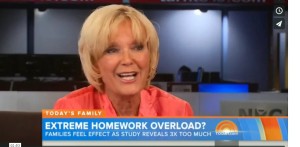 International Expert on Family Dynamics, Public Speaker, Researcher, and Co-Author of The Learning Habit
For Booking Please Contact: Berry Brady (703) 609-6643 or [email protected]
Stephanie Donaldson-Pressman is an internationally recognized expert on family dynamics. As a therapist and the clinical director of New England Center for Pediatric Psychology, she developed the theory of Empowerment Parenting and has used it successfully with thousands of children and adults. Both this theory and her experience form the backbone of her recent book, The Learning Habit: A Groundbreaking Approach to Homework and Parenting That Helps Our Children Succeed in School and Life. Peppered with stories from her clinical practice, the book presents a clear, entertaining, and user-friendly solution to the everyday challenges faced by parents and educators.
The Learning Habit is based on the largest study of family routines in the history of the Unites States. Attracting nearly 50,000 respondents from more than 4600 cities and town across the Unites States, Donaldson-Pressman's new parenting model was proven to be the most effective in creating academic success, social confidence, and emotional balance.
Through the three year process of gathering information for the book, she traveled through the country, speaking to groups of educators and parents, to discover their most pressing concerns. Working with top researchers from Brown University's Alpert School of Medicine, Brandeis University, Children's National Medical Center, Brandeis University, and New England Center for Pediatric Psychology, the research study was crafted to address those concerns.
Donaldson-Pressman's research and writing on developing productive family routines has been featured on The Today Show, CNN, Time Magazine, The New York Times, The Boston Globe, Psychology Today, The Huffington Post LIVE, NBC's Education Nation, and NBC News Health Report. Her model for teaching communication skills to kids was endorsed by two-time Emmy Award-winning journalist, Bill McGowan, author of Pitch Perfect: How to Say It Right the First Time, Every Time.
Donaldson-Pressman is the author of The Narcissistic Family: Diagnosis and Treatment – consistently #11 on the list of best-selling psychiatric texts since its publication. Her book introduced the now popular term "narcissistic family" and has been heralded by professional therapists, self-help readers, and celebrities as diverse as Usher, Marc Maron, Pat Conroy, and Kris Kristofferson.
SELECTED MEDIA CLIPS: 
The Today Show: Too Much Homework?  Interview with Stephanie Donaldson-Pressman
Huffington Post LIVE: Interview with Stephanie Donaldson-Pressman 
WGN-TV: Interview with Stephanie Donaldson Pressman 
KPRC Houston: How Empowerment Parenting Works (Interview with Stephanie Donaldson-Pressman) 
PRINT
The Boston Globe: Take a Step Back To Ease Homework Stress
ABOUT.com: How and why homework causes parents and kids stress, and what to do
The Boston Globe: Is more homework putting stress on families?
The New York Times: When Homework Stresses Parents as Well as Students  Interview with Stephanie Donaldson-Pressman 
The Boston Globe: Interview with Stephanie Donaldson-Pressman
Time Magazine: Kids Receive 3 Times Recommended Homework Load