Should Parents Volunteer in the Classroom?
As children head back to school, many parents are wondering if they should volunteer in their child's classroom. Last week, I enjoyed reading Amanda Ripley's piece, A Short List of Things that Do Not Explain Our Educational Mediocrity.
It identified five hotly debated topics on which educators and parents often waste valuable time but don't have any impact on children's educational outcomes. Often, we are pulled into school and educational debates which tend to focus on areas that don't actually help our children do any better academically. Worse, they exhaust parents and leave them with little energy to focus on the habits and routines that will absolutely help their kids do better in school. (See Empowerment Parenting)
Ripley briefly discusses five topics that don't help educational outcomes:
School Lunches
Class Size
Time in School
Type of School
Parental Involvement (She clarifies this by adding, "The kind of involvement matters more than the quantity.")
THE KIND OF HELP THAT DOESN'T HELP
My personal experience with parental involvement at school certainly reflects those findings. The more time I spent "involved" at school, the less time I spent "involved" at home in activities that were both academically and emotionally rewarding to my children.
Two years ago, I volunteered at my child's classroom Halloween party. I spent hours online finding healthy snacks that looked attractive—and then took hours to create them.
At the party, I noticed a few children who were less involved than the other children. These same kids looked like they were having less fun. These kids were the three children whose parents were volunteering at the event….and one of them was mine!
In many life situations, social pressure trumps common sense. Parenting is not exempt from this. That's why it is helpful for me (perhaps for you, too?) to focus on the larger narrative. When the event is at school, instead of asking myself "What am I supposed to do?" I ask myself, "How can I help my child learn?"
Many educational events are nothing more than social hoops we often feel compelled to jump through to prove our worth as a parent. Ironically, research proves that the more we focus on building grit in children, the more successful they are socially, academically, and emotionally. Less really is more when it comes to "helping" children in school.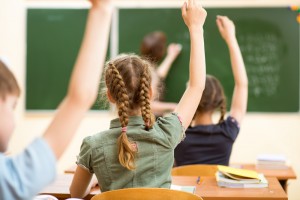 HOW CAN WE HELP CHILDREN LEARN?
Cupcakes at school and gift bags for the entire classroom are certainly not the solution.  However, that doesn't mean you're banned from your child's school. Occasionally, common sense and learning collide.
Here Is A Wonderful Example:

 
Reading to your child's elementary school class on his or her birthday. That makes your child feel important on their birthday and reinforces the value of reading, all at the same time.

________________________________________________________
LEARN MORE: Pre-order The Learning Habit (available 9/2). It is packed with study findings, hundreds of case studies, and teacher/parent interviews.   This book is a "must have" educational tool for all parents and teachers.
READ: Amanda Ripley's post, A Short List of Things that Do Not Explain Our Educational Mediocrity. [/su_note]