From the Blog
Taken from "The Magic Question: Strong Families During and After the Pandemic" book to be published in September. Parents ask,  "Should I send my child to school during the pandemic?"  The answer lies in knowing precisely what safety provisions the school has for your child.  After all, the decision to send your child back… Read More
****** IN THE NEWS ***** The Learning Habit Featured on THE TODAY SHOW!
Too much homework?
Author and education expert Stephanie Donaldson-Pressman is featured on The Today Show discussing homework and family stress.
MEET OUR EXPERTS
Stephanie Donaldson-Pressman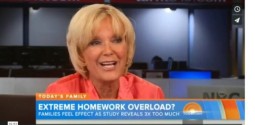 Family Therapist, Lecturer, and Co-Author of The Learning Habit
Dr. Robert M. Pressman
Director of research for the New England Center of Pediatric Psychology, board certified in Family Psychology
****** IN THE NEWS ***** "The Learning Habit" Featured on CNN!
Kelly Wallace, CNN
Donaldson-Pressman, co-author of "The Learning Habit" discusses the effects of homework on families.
Good Parent Foundation
Research based approaches to learning and education
Learn more about our "balanced homework habit" initiative, and our commitment to educating the whole child.
Featured in Parents Magazine
Parents Magazine picked "The Learning Habit" as their October MUST READ!
Featured in REAL SIMPLE
How to Raise a DIY Kid Advice from "The Learning Habit"