From The Magic Question Method: Modifying Your Child's Troubling Behavior During and After COVID 19.    

En español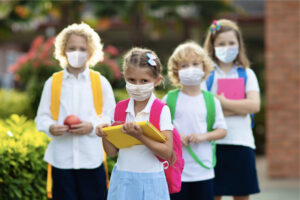 Parents ask  "Should I send my child to school during the pandemic?"  The answer lies in knowing precisely what safety provisions the school has for your child.  After all, the decision to send your child back to school may involve elements of real, not imaginary, danger. 
These suggestions are offered  to the parents  seen in our practice to help them decide how safe or dangerous it is to send their child back into school.   The protocol below, if followed precisely by the school, will reduce the likelihood of your child becoming ill. 
If you do not have the time to read the entire blog, here is the most important fact.  If your child wears a good fitting N95 or KN95 and never takes if off going to, being at, or coming home from school, his/her chances of getting Covid19 are reduced by about 95%.  All the other items mentioned below are necessary if these particular masks are not available.
The decision is not that difficult when you know the facts–facts about how the virus is spread– and most importantly–facts about EXACTLY what methods schools use to protect children from getting Covid-19.  The decision is simple, because if you find that any single aspect of the protocol is not being followed, your child may be exposed  to Covid19. 
Now, hospital staff seldom become infected, only because of rigid safety measures. While in school, protection of your child will require even stricter methods, which are outlined below. Superior face masks are used in hospitals that filter out 95% of viral material (N95's).  You won't see any surgeons or nurses running around wearing bandannas, which are more effective for bank robbers.   At present, the government informally considers the acceptable risk of death and illness vs. better education of America's children. What level of risk of your child becoming ill or dying are you comfortable with–15 % ?–10%?–5%?
To make a decision, you must first know exactly how humans contract Covid-19–and how the virus can be prevented from spreading. 
How do you get Covid-19
Covid-19 is a

disease

.

 

Severe Acute Respiratory Syndrome Coronavirus 2

(SARS-CoV-2) is the

virus.

The human body is the

host

for the virus.  Without the host, the virus cannot survive beyond 14 days (and usually only for a few  hours).  

The

ONLY

pathway into the lungs, where the virus will live, multiply, and spread, is specifically and only your airway (known also as the windpipe or trachea). The virus gets into the airway through the nose and mouth. NO OTHER WAY.*

You can touch something that has the virus on it,  i.e. an elevator button, a shopping cart, or a door knob.  If the virus is on these things, you will

not

get Covid-19 by touching it. BUT AS SOON AS YOU PUT THAT HAND TO YOUR MOUTH OR NOSE (the door to your windpipe),  you are likely to become infected. 
*Recently there have been two informal theories that suggest  that there may be rare cases of the virus  entering the windpipe through the ears or eyes. These theories are, thus far, unproven.
Truth about Masks * How to Stop the Virus in its Tracks
Wearing a certified 95% virus blocking mask, such as the N95 or KN95 is the only effective way to avoid getting infected or passing the infection on to others.  Surgical masks are at about 35% efficient in virus blocking.  They are used primarily to prevent  surgical teams from passing germs to the patient. Bandannas are rated about 15% effective,  and dust masks about 10% efficiency.  All but  the N95 may provide a false sense of security.   
With proper masks, if the following protocol is adhered to at your child's school, the probability of  infection  of your child from others at or on the way to school  ought to be near zero. 
Unexpected problems with masks
.  
At the time of writing this book

there is not one study measuring the length of time children will tolerate  masks.

 

Mostly masks are manufactured in two adult sizes (regular and large).  The third size is a small mask intended for children. However, because children are still growing, one size will not fit them all.

All and all, research has covered nearly every aspect of transmission of Covid19, except how long children will keep masks on their face, their ability to wear the masks properly, or how to best train compliance.  

Since the outbreak, two physicians believe that they were infected through the eyes and ears.

 Dr. Anthony Fauci, the director of the National Institute of Allergy and Infectious Diseases, said.

 

"Theoretically, you should protect all the mucosal surfaces, so if you have goggles or an eye shield,  you use them. However, at this stage, it's not universally recommended.  
What you need to know in order to make the decision
To arrive at an educated decision about the safety of your child, you must find out about every item listed below from the school or regulators.  ANY item that is missing or is unclear, may expose your child to infection. If you receive a lengthy notification, be sure to circle any item that is confusing and ask about it.  Remember, no question is silly when it comes to your child's well being.
School's Plan for Your Child
Advanced preparation and education of parents and staff and children:
Opportunity to ask questions about these items via a Webinar. 

How the virus is actually spread.

Protocol for waiting at the bus stop, delivery of children by car, or walking.

How will masks be distributed and how frequently.

When should a mask be discarded.

Methods of developing tolerance of masks.
Transportation to School
Duties of Monitor: 
Take the temperature of each child before entering the bus; and query each parent regarding Covid19 symptoms.
Duty of parent
The parent  must be at the bus stop  to insure social distancing and take their child home, if fever is detected.  The same applies to children who walk or are driven to school.  See below for protocol for walk-ins.
Duty of Bus Driver.
Distribute children to seats not marked with taped X's to insure social distancing.
Duty of school staff upon entry of dismissal of bus children
From the bus, children will debark segmentally, with staff permitting one bus, then another to have children debark.  Wearing masks, these children will immediately go to their designated classroom.  The same is done in reverse at the end of school.  This procedure will help to maintain social distance at the two busiest times of the school day. 
Children Walking from Home
A parent must accompany the child so that, before entry of a student, designated staff will check the temperature of the child and query the parent about Covid19 indicators.  

Children who have a fever or other indicators of Covid19 will go home with their parent.
Split days/shifts
Depending on the size of the student population, the day is divided into two or three shifts.  Bus availability may be a financial issue.

The shift strategy  may be augmented by rotating days.  Children only go to school perhaps for two days with the other three days devoted to at home learning.  

The school week may be expanded to six days to reduce the amount of at home learning.  This would involve additional funds.
Social Distancing
The standard is six feet distance.  However, this is not enough in school.  Also, in school, desks demark aisles for teachers and students to walk.  If two students get up from their desks at one time, they will only be a few inches apart.  Therefore, eight feet distance instead of six is recommended.
Cluster Grouping
This is a scheme where a limited number of children stay together in a cluster throughout the day.  So long as social distance is maintained, it should be as safe as the other social distancing strategies discussed here. 
Food and Snacks
Because masks must be removed to eat or drink, the policy regarding whether or not food and snacks are permitted depends on how the school day is structured and how social distancing is implemented.
In schools where children come only a few hours a day, food is less likely to be an issue. Children  eat at home.
Some schools plan to have students eat in open spaces outdoors where social distancing is easier to implement and where airflow is more protective.  This outdoor method also allows a carefully monitored "mask break." Weather will be a factor.  Ultimately, the school must have a clear indoors social distancing strategy to deal with eating
Stuff from Home
Cell phones.  These are breeding grounds for germs. Usually, people have them less than two inches from their mouth.  All items brought into school must be carried in a backpack, they may be taken out to use at the appropriate time by children, but never passed to others. 

Assignments are collected at the student's desk by the teacher, who will take appropriate precautions.
Playground

 and Gym
These areas that are often used for play ought not present a problem, so long as social distancing is used in the line to and from these locations and in the activity.